Scroll down for a guided tour
through a completed LEGO project
Scroll down for a guided tour
through a completed LEGO project
1.
Businesses like LEGO
post projects to Tongal
2.
Tongal community goes
to work generating ideas
Review the creative brief, browse project assets and deliverables or thumb through and ask questions in the support forum.
3.
Winning ideas are chosen
Businesses and judges select the ideas they want to see come to life and the creatives that submitted those ideas get paid.

4.
Directors pitch
on winning ideas
Filmakers select one of the winning ideas and submit their vision. Storyboards, location pics, talent, scripts and more — whatever you deem necessary to translate your vision.
Erik Beck and Justin Johnson talk about the
direction for
5000 Legos, Unlimited Inspiration
5.
Businesses review and
select pitch winners
Winning pitches are awarded guaranteed production dollars for their finished videos.
6.
Aim & Shoot
Pitch winners go into production and submit their finished films. Additionally, anyone who wants to submit a video can create a wildcard.
7.
Businesses select winning
videos and distribute
Businesses select the winning video, determine the final ranking and distribute through their preferred digital or broadcast media outlets.
8.
Tongal members get paid
The winning filmaker and the top finalists get paid and their winning submissions are displayed and distributed.
1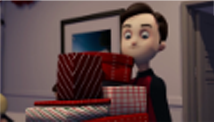 1st Prize
Our Tradition
Mean Low
$19,000
2
2nd Prize
5000 Legos, unlimited Inspiration
Indie Machines
$10,450
3
3rd Prize
Our Stories
Jeff & Noah
$5,700
4
4th Prize
Notes from the Lego Tub
Sam Lawlace
$4,000
And that's how it's done.
Now, let's get creative.